The Tempered History of BDSM
Posted by Leatherotics on 25th Aug 2020
The Marquis De 'Sade is synonymous with the history of BDSM based on his erotic writing in the 17th Century. His desire to explore and encourage sexual freedom, of all kinds, bought people's secret desires and fetishes into the public forum. Today he is considered one of France's great philosophers and his sadomasochistic writings have inspired modern-day, explicit, artworks by the likes of the renowned artist Salvador Dali. The fetish club where people can openly explore and indulge in their more deviant fantasies were first opened in Germany as a reaction to the end of the first world war, people wanted freedom in all areas of their lives. Of course, leather has always been an integral part of the BDSM culture, even before these safe havens when it was hidden underground and kept firmly shut behind closed doors.
The psychology behind BDSM has long been studied and discussed by the world of academic professionals in a bid to understand these desires and activities. Today's research demonstrates that those who practice sexual domination or sexual submission are far less likely to suffer mental disorders such as anxiety and depression. There are various levels of BDSM ranging from gentle fetishes through to serious sexual domination and encapsulation, or total submission. No matter if it's whips and restraints, or leather masks and hoods, at leatherotics were here to make sure you get the accessories you need to fulfil your sexual freedoms and desires.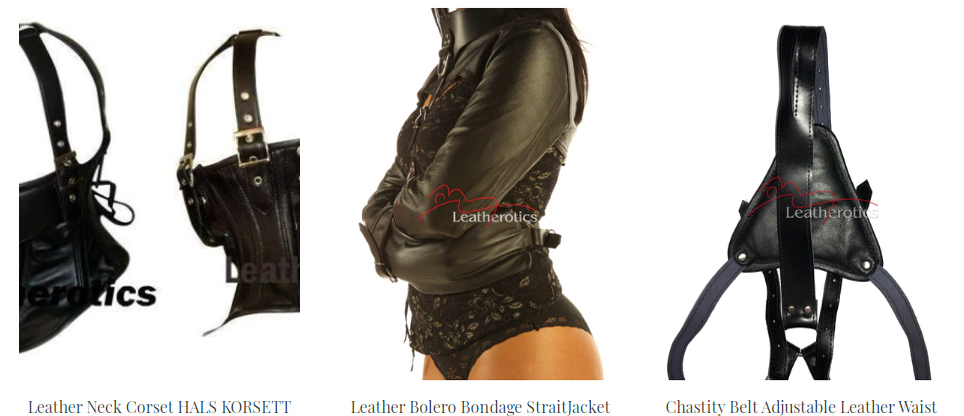 In popular culture tv shows featuring vampires lean towards the lighter side of BDSM and in music some bands such as Nine-inch nails and Marylin Manson heavily embrace outfits the feature as part of the BDSM culture. There has also been a resurgence in literature with the book and movie hit Fifty Shades of Grey. Popular culture is no longer as afraid of BDSM as it once was but it is still the privilege of the minority of adventurous pleasure seekers.
BDSM – Fetish Play
There are a huge variety of fetishes in which people indulge, some are more obscure than others but some of the more common ones include:
Medical role play, such as Doctors and Nurses. The costumes and uniforms are a major part of this type of sexual role play.
Voyeurism is the practice of watching others engaged in sexual acts and is definitely a part of being in a cuckold relationship. These types of fantasies are often enhanced by the wearing of supple leather masks or hoods.
Some couples often role-play for date night and pretend to meet for the first time under different names, as part of an evening of seduction.
Foot Fetishes are surprisingly common and not as one track as many people think. The focus can be on high heel shoes, dirty/clean stockings or socks, or the smell of the feet and that's before we get to the feet themselves.
Puppy or feline cat play can be gratifying and is much more realistic when wearing a soft full-grain leather mask and perfect for animal-based bondage adventures.
Group sex and orgies are highly popular as they allow intimacy and sexual deviations with different people who are likely to have varying sexual appetites. This type of gathering was not to be missed in the days of Roman emperors and gladiators. Followed by a trip to the vomitorium. Feeding masks are still popular when it comes to food and fetishes.
Leather Masks and Hoods
Masks and hoods are a prominent accessory when it comes to BDSM whether you're looking to dominate your sub or be an obedient slave. Leather masks and hoods are perfect to hide your identity, allowing you to be whoever you want to be.
They are also perfect for more restrictive play when it comes to breathing and gagging and shifting power dynamics.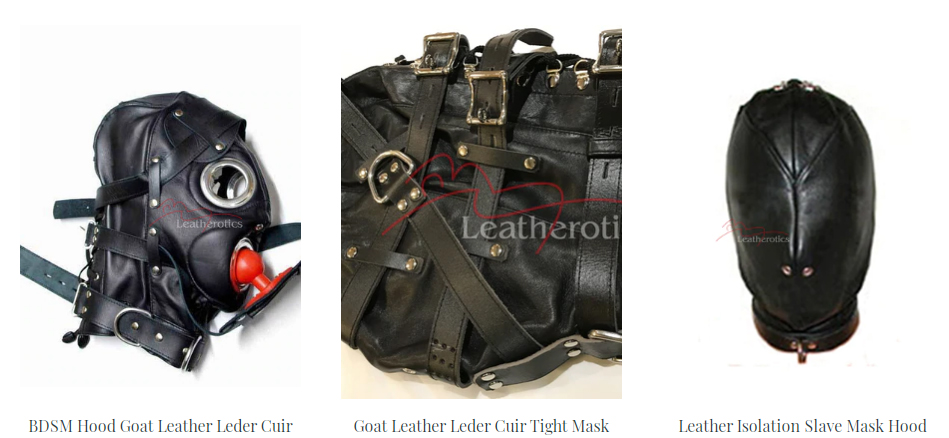 Soft and supple leather masks are perfect for sensory deprivation. Masks and hoods give you the chance to experiment with hooks, laces, locks and keys and for the more adventurous, stay in place, D rings, to also restrict the movement of the head and neck for total control. Humiliation and domination are easily achieved if this is the outcome you're looking for. They're also perfect for gatherings at fetish clubs or parties where pure sexual freedom is on the menu.
A leather BDSM hood is a type of headgear commonly used in BDSM (Bondage, Discipline, Sadism, and Masochism) practices. It is designed to cover the head and typically includes various features and elements to enhance the BDSM experience. Here are some key aspects and considerations related to leather BDSM hoods:
Material: Leather is a popular choice for BDSM hoods due to its durability, aesthetic appeal, and sensory impact. Leather hoods can be made from genuine leather or synthetic materials that mimic the look and feel of leather.
Design: BDSM hoods come in various designs, depending on the specific preferences and interests of the participants. Some common features include openings for the eyes, nose, and mouth, while others may completely enclose the head, leaving the wearer sensory deprived.
Functionality: Hoods can serve different purposes in BDSM scenes. They can create a sense of anonymity and relinquish control for the wearer, intensify sensory experiences by limiting sight or hearing, or be used as part of role-playing scenarios.
Safety: It's crucial to prioritize safety when engaging in BDSM activities. Communication, consent, and mutual understanding are vital. Before using a leather BDSM hood, discuss limits, safe words, and establish a clear understanding of each participant's comfort levels and boundaries.
Care and maintenance: Leather hoods require proper care to maintain their quality and longevity. Follow the manufacturer's instructions for cleaning and conditioning the leather. Store the hood in a cool, dry place away from direct sunlight.
Remember, BDSM activities should always be consensual, and proper communication and understanding between all parties involved are essential. It's recommended to educate yourself and seek guidance from experienced individuals or resources within the BDSM community to ensure a safe and enjoyable experience.
Bondage and Discipline
For some people and some couples, the act of domination over another person induces feelings of sexual arousal, based on being superior to the other person. Controlling other peoples access to sexual pleasure and being the one who does, or does not, allow them to achieve orgasm, heightens the sexual tension and erotic stimulation they receive themselves.
Bondage play refers to a consensual sexual practice within the realm of BDSM (Bondage, Discipline, Sadism, and Masochism). It involves restraining a partner using various tools or techniques, such as ropes, handcuffs, or restraints, for the purpose of power exchange, sensory exploration, or enhancing erotic pleasure. Safety, consent, and communication are essential aspects of engaging in bondage play.
Whips, chains, leather masks and restraints, are some of the key tools for a sadist and they have their origins in torture and punishment for the unworthy. Depending on how and where the whips are used, they can leave a lasting reminder of a sexual encounter, which elicits sexual arousal or even further gratification, until the marks eventually subside. Inflicting pain at varying levels and various places on a submissive person is an act of control and for the dominant personality this the key to how they tease and make the submissive person suffer to the edges of their sexual abilities.
Dominance and Submission
Receiving pain and feeling unworthy are the dominant traits of a submissive personality. Often the most sexually submissive hold powerful roles or are in a position of authority in mainstream society. This isn't always the case as all of us have our unique fantasies and desires. Full-grain leather arm, wrist and neck restraints are the perfect combination for becoming a slave beholden to a dominant master. Leather corsets are also, of course, a magnificent way to feel a second warm and supple skin against your body, which further serves to enhance fetish or bondage play.

For complete submersion into BDSM, the ultra-soft body bag is the perfect way to demonstrate just how dominated you are prepared to be. This type of complete helplessness is often associated with feelings of time distortion and a heightened state of euphoria. With access pockets, zips in all the right places and suspension buckles, you're at the complete mercy of the master of your deepest bondage adventure play.
At leatherotics our collections are handpicked to complement a variety of desires and fantasies from light to dark. Our full-grain top leather masks and hoods are handcrafted to ensure complete satisfaction at the moment you've been working towards. Whether you heading for a night of passion at the fetish club, attending the orgy of the season, or taking time to implement your rule at home, we've got your face covered!