The Wonderful History of Corsets
Posted by Leatherotics on 25th Aug 2020
The first corset is said to have been designed for Katherine De Medici in Italy, in the 1500s and since then, the corset has been entwined with an ever-changing role in fashion and influence. Created using a variety of materials from lace and whalebone to steel, fabric and full-grain leather, focusing on the wearer's waistline, sculpting and defining its shape. Corsets are a garment which can make a statement and even define your style, which is why we take so much pride in our specially selected bespoke and handcrafted corsets here at Leatherotics.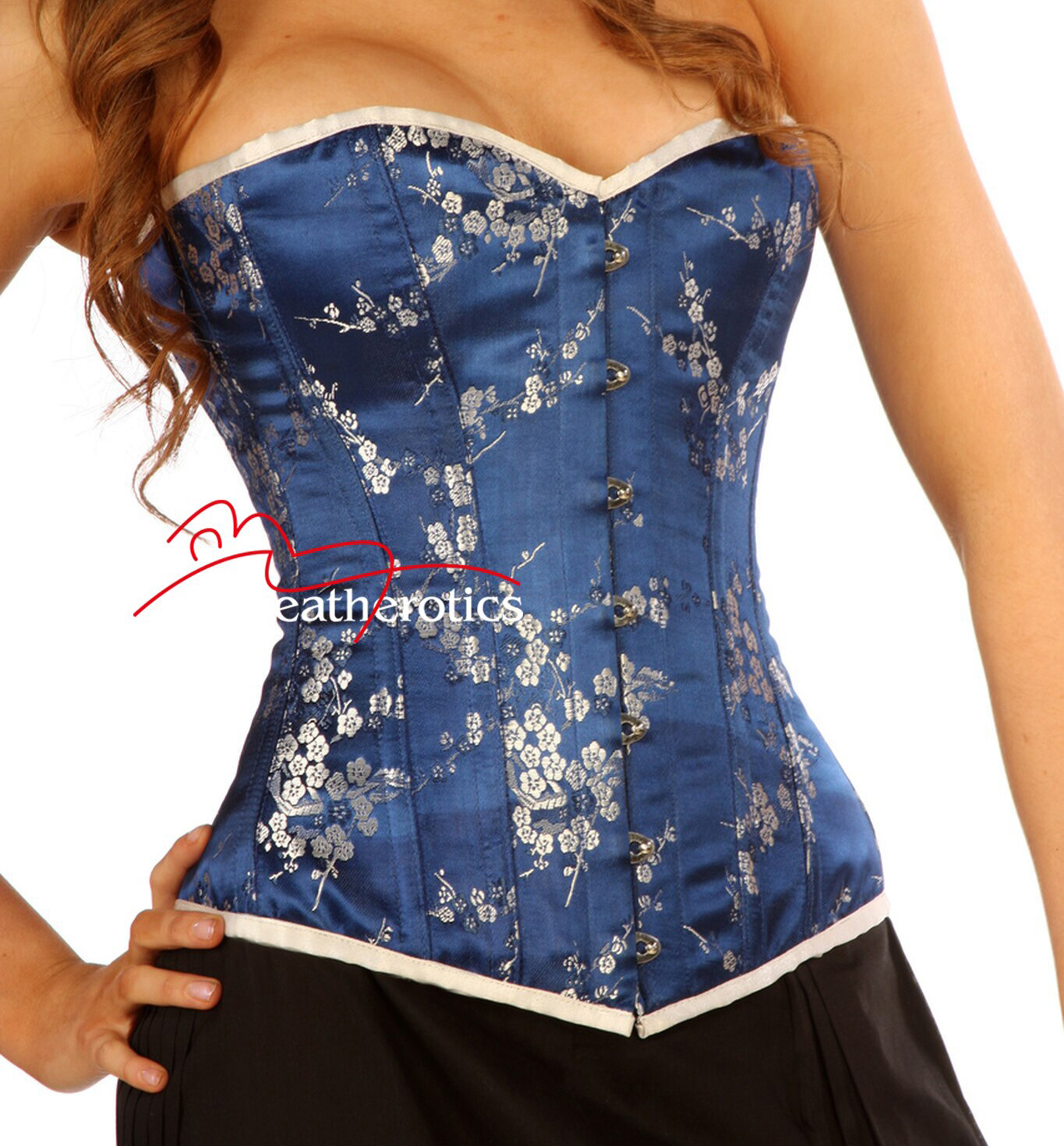 Corsets can feature elegant patterns which deserve to be displayed, whilst others are used to shape the waist more discreetly. They can be worn under or over clothes, as a centrepiece, or the perfect accessory depending on your style and the occasion. However, the path of the corset has not always been a smooth one. Because they enhance the breasts and pull in the waist, they were considered to be morally evil by the more stoic members of society in the 19th century. The Church also held a similar view of immorality regarding the corset. The tighter the lacing the less morally acceptable! Fortunately, the corset has retained its appeal regarding exceptionally tight lacing, so when it comes to crafting them, you can choose the perfect style for you.
Corsets in Popular Culture
Social media platforms such as Instagram are filled with Corset wearing fashionistas. Millions of followers are developing a fast fascination with cosplay, waist training and retro style corsets. Corsets serve a multitude of passions and fashions across a varied spectrum of activities and desires. Top name designers such as Prada and Thierry Mugler have played a large part in reintroducing the corset as a major fashion trend over the last 10 years. At Leatherotics we've always been ahead of the trend, as we've always understood the wealth of reasons behind owning a collection of unique and bespoke corsets for every occasion.
Stage plays and the silver screen have helped to popularise the use of corsets as a key component of the costumes of heroes and heroines alike. Wonder woman is the pinnacle of a corset wearing superhero, from the days of Linda Evans to Gal Godot. It's easy to see the evolution of the corset over the last 30 years in this one superhero alone.
Some other recognisable films include Cher's Burlesque. Cher is well known for her established corset training practices. Nicole Kidman in Moulin Rouge, and, of course, the stage play Chicago which features a host of female stars.
Jessica Rabbit, although a cartoon character, caused a furore as the sexiest cartoon character of all time, thanks, in no small part, to her beautifully corseted waistline and Kate Beckinsale leads the way when it comes to the Leather Corset. The sword-wielding vampirical death slayer is magnificent in her gothic style leather corset ensemble.
Types of Corset Style
An Overbust corset is just that. It covers and accentuates the breasts, highlighting this area as well as defining a super sleek waist. Supple and soft, yet firm the overbust corset delivers an hourglass shape.
Underbust corsets sit comfortably under the bust line and can be worn with a sleek and stylish bra, or if your feeling adventurous they can be worn as an outer garment rather than underwear. Adding chic and glamour to any outfit, becoming a beautiful centrepiece, rather than something to be hidden away.
Waist training or cinching corsets are laced tighter than normal so that the waistline is gradually pulled in and the body takes on a more hourglass shape. This is typically several inches smaller than the original waist size at the beginning of training.
Leather Corsets provide the feel of a second skin that other materials are unable to match. Full-grain, top quality leather corsets are our speciality at Leatherotics. Leather has an undeniably sexy and provocative look which means it can be worn day or night, depending on your activities!
Burlesque Corsets have always held their own unique space within the representation of drama and the arts. Beautiful accessories emphasize the stunning corsets and bring a new dimension to the performers on stage. Popular in France, their unrivalled beauty has reached around the globe to inspire Brazillian carnival costumes and even Spanish Faillas.
Steampunk corsets are inspired by the era of Victorian science fiction and the Industrial revolution. They feature as part of costumes worn at events and conventions and add to the mystery of this time travelling era.
Gothic corsets are firmly rooted in the darker side of our interests and desires. From vampires to castle owning Lords the Gothic look is a gateway to our darker, more intimate passions. Darker colours and spellbinding, mystical patterns feature heavily in this style.
Waist Cinching
Waist cinching is said to have started in the 15th Century with girls wearing them from a young age until their wedding night. The waist shape and size of a woman would be a prominent factor in whether or not a suitor would ask for their hand marriage. Corsets were also a physical demonstration of a female's modesty during these times.
Over the coming centuries, the fashion and style of courses changed according to the kings and queens of the ages. They would determine what was fashionable for the ladies in court which, much like today, would cascade down the line to the wider population, who wanted to emulate their rulers and keep up with high fashion.
In more modern times prominent celebrities have taken to this practice which has opened the practice to a wider audience once again. A smaller waist has always been seen as a sign of a woman's physical beauty and prowess and this trend is certainly making a comeback! Wearing a waist trainer or cincher can reduce the waistline by several inches over time and can deliver incredible results. Not only do they deliver results but wearing a beautiful corset can change your posture and the way you present yourself to the world. They inspire confidence with tailored designs and luxurious materials pressing against the skin.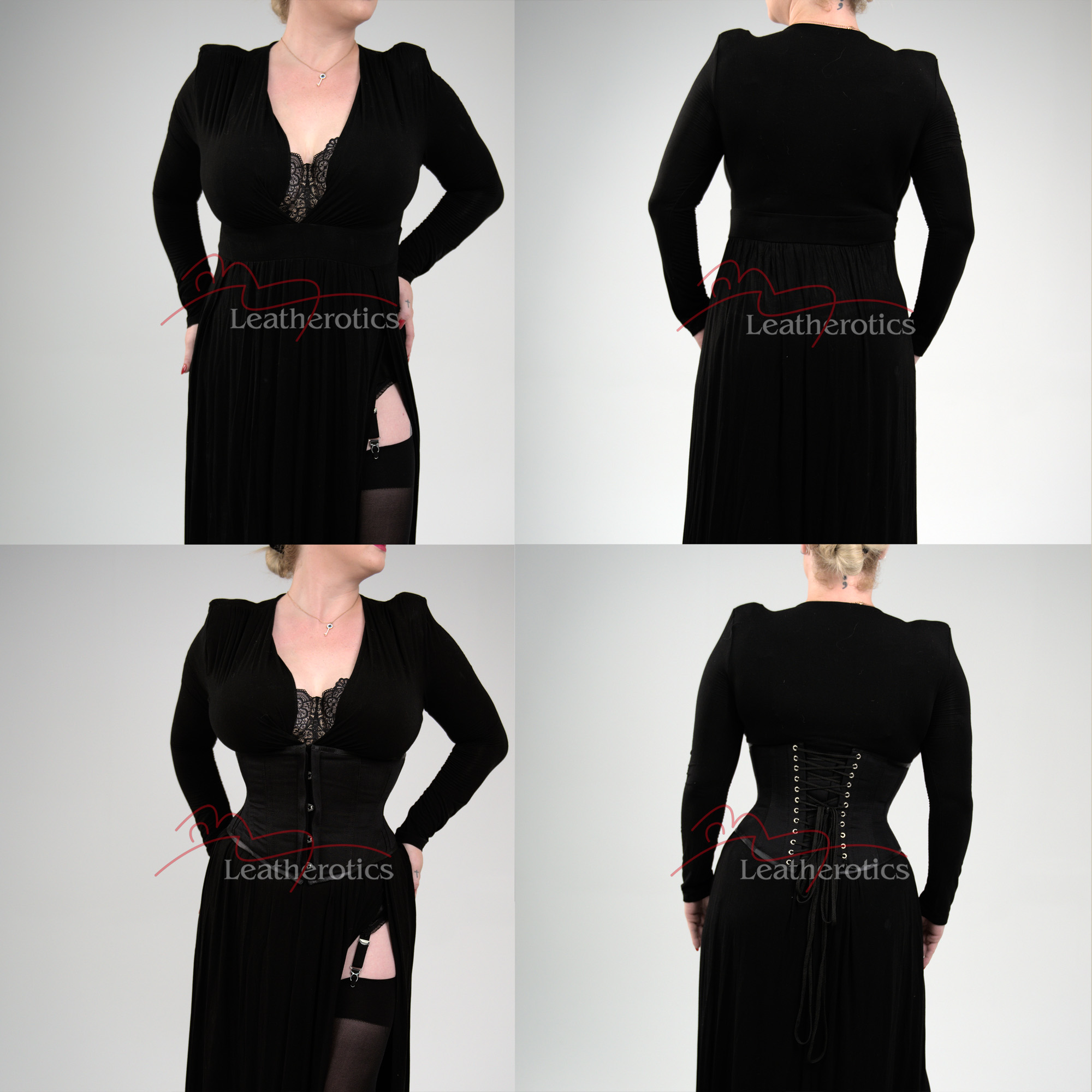 (The magic of tight lacing. Reshape dramatically your waist with our tight lacing steel boned corset)
Corsets for Men and Women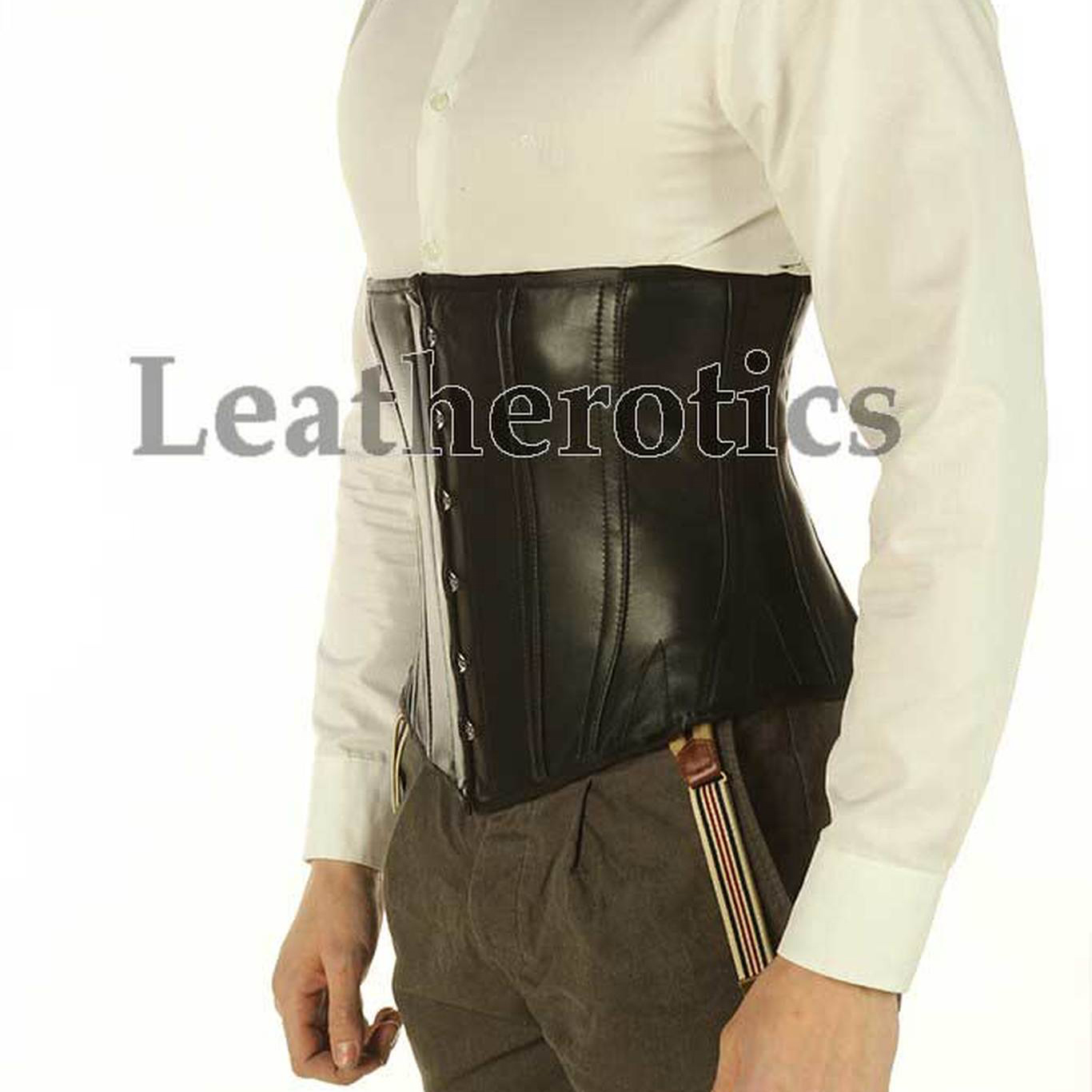 Enhancing the bodies shape to achieve the desired hourglass look and silhouette, is something which appeals to both men and women. Although for men it becomes more of an enhanced V shape accentuating the shoulders unless the type of corset chosen is specifically being worn to enhance feminine shapes and features, rather than the male. We've chosen our range of corsets to suit every individual taste and desire. From Mr Darcy to Madame La Fleur, our corsets have got you covered when you need to create the atmosphere only such a gorgeous garment can deliver. Corsets allow both Men and Women the control they deserve to shape their bodies into the look which represents them individually at their best.
Corsets for the Future
Science will always develop new materials which will eventually incorporate themselves into fashion and clothing. At Leatherotics we follow these trends and the latest developments to ensure the corsets we offer are always handcrafted and bespoke to your needs. From the latest in Steampunk corsets to the finest full-grain leather corsets, through to the purest satin and silks. We take pride in our corsets and will deliver the highest quality to your front door.