​The History of Steampunk
Posted by Leatherotics on 25th Aug 2020
Steampunk has its roots firmly in the 19th Century Industrial Revolution, combined with the impact Science Fiction writing had on this era. The rise of new machinery powered by steam, clockwork and of course, the advent of electricity, blend heavily into the science fiction literature of the time, such as H.G Wells, Time Machine and Jules Vernes much loved classic, Journey to the Centre of The Earth. More modern novels which have added extra flair to the Steampunk Genre often cross-over with Gothic and Vampire themes and even post-apocalyptic streams. The word Steampunk was coined by the science fiction author K.W Jeter in the early 1970s, and now the term encapsulates Steampunk through art, fashion, furniture and mechanics.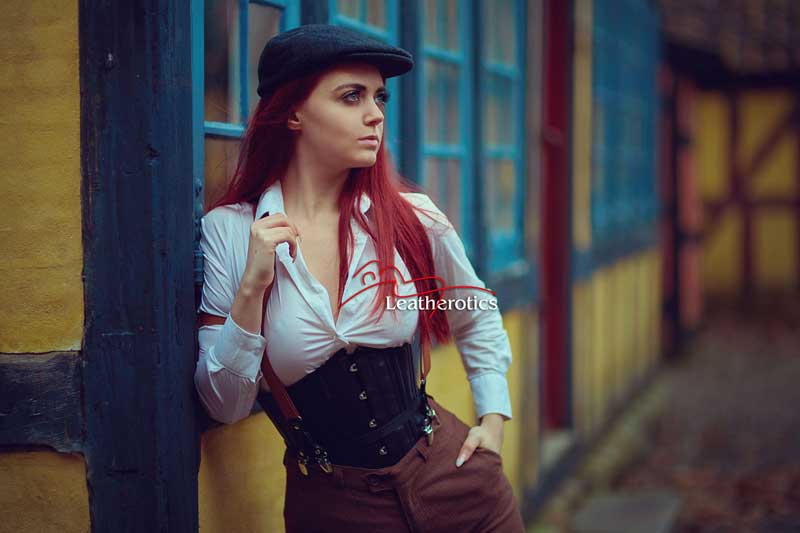 Steampunk as a Movement
This fictional and magnetic style has become an active lifestyle genre, where Steampunk enthusiasts dress in costume and attend meetings, markets, festivals and conventions to share ideas and reveal their latest intricate costume designs. Costumes are integral to the movement which encapsulates mainstream curiosity.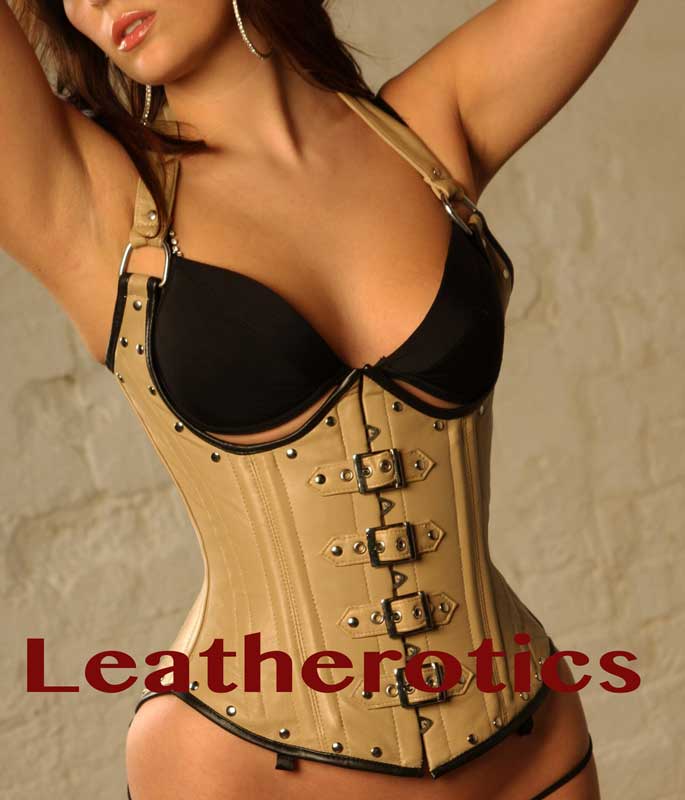 You'll want to be sure you've got the steampunk outfit that sets you apart from the other steampunk enthusiasts, which is why we ensure our pieces are handcrafted and individually selected for our Leatherotics Steampunk clothing collection. This retro-futuristic movement is particularly exciting and mysterious, with its unique clothing style of Steampunk corsets, military uniforms, long coats and exquisite embroidery. Perfect for intrepid explorers, time travellers, underhanded villains and crazy scientists in laboratories. The Steampunk movement is about having fun, not accurately re-enacting a period of a real historical past and gives a nod to both the Victorian and Edwardian eras.
It's this combination of new technology and, the imagination of writers, which created a vision of a Steampunk world, fuelled by new ideas, and the desire to reach the moon and the stars. It encapsulates the possibility of a changing world in the Victorian era under the Empire that spanned a fifth of the world. The Edwardian age also features heavily although it covers a shorter number of years in terms of timespan.
The Maker Movement
The Maker movement involves people who are both Makers and Steampunks. They make and design machinery, contraptions and fanciful devices as art or with a hidden functional purpose. Some of these contraptions are as large as cars, buses or even steam-powered mobile houses. Other devices are made to look retro such as old-style typewriters which house modern-day technology.
Some of the most popular Steampunk contraptions and machines which are regularly referenced include:
Time Machines
Zeppelins
Airships
Hot Air Balloons
Steam Powered Locomotives
Steampunk clothing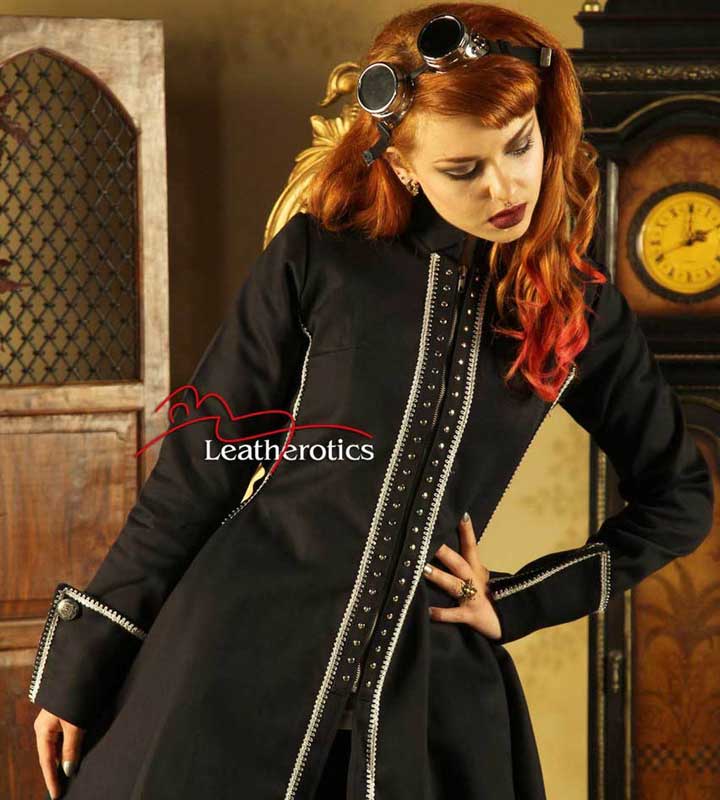 At Leatherotics we understand that having the right accessories and clothing, ensures you're able to immerse yourself in the world of Steampunk, fully equipped and ready to live out your second life. Our online range of steampunk clothes for women includes Gothic style steel boned corsets, stunning Victorian waistcoats and leather steampunk jackets. If you love tailcoat jackets, then we've got some stunning designs and patterns unique tailored to your style.
Vintage Victorian pieces with Gothic undertones and Edwardian style ruffles feature heavily in the steampunk clothing genre and we're dedicated to delivering the perfect pieces for you to choose from. Combine steampunk pieces and accessories with top hats, leather arm gauntlets and leather boots to achieve the perfect time traveller look. Full-grain leather or silk styled overbust and underbust corsets are a staple of the steampunk style and our online corset shop has some fabulous pieces in the steampunk genre to choose from. You'll be dressed to impress, whatever the occasion, as we understand the Victorian devil is in the detail.
For the Steampunk man, top hats and handmade long straight coats, with a traditional Victorian or Edwardian appearance are more traditional. For a darker Steampunk element then gothic, military-style jackets are available from our online shop. If you're more of a rogue, then why not add hand-crafted full-grain thigh-high leather boots, luxurious gloves, and quirky goggles for a more daring and dashing style.
Black velvet jackets are a firm favourite, as part of the traditional steampunk movement, but we also offer more adventurous colours, so you can make your mark at any event. Our collection includes unique designs of both Victorian and Edwardian design, in cotton as well as top grain leather, which are perfect for adding to your personal collection. Brocade waistcoats and leather waistcoats establish a fitted gentlemanly steampunk look that's classically Victorian/Edwardian.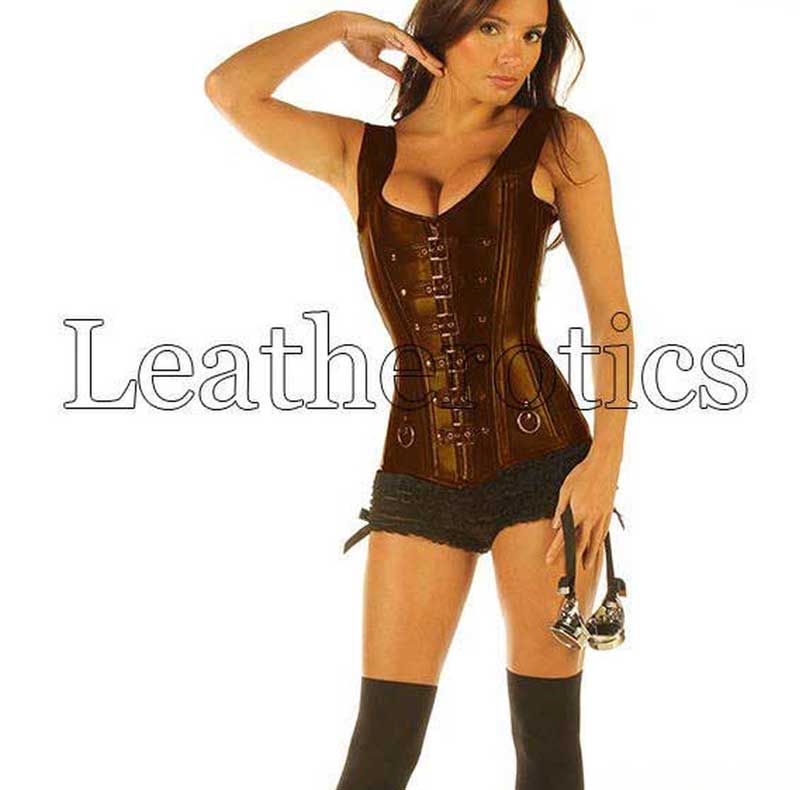 Our online steampunk clothing shop is always adding new pieces so you can keep your look fresh, up to date and on-trend. We take pride in delivering quality, luxury Victorian and Gothic garments, detailed leather corsets and steampunk accessories, as well as military-style jackets and other gorgeous pieces. We're loyal to the essence of the Steampunk clothing genre, which is why our clothing collection for men and women is of the highest quality leather and displays the most detailed designs.
Steampunk Accessories
Goggles are one of the most popular accessories when it comes to creating the perfect steampunk costume. Part of the story for Steampunks is bravery in hazardous situations, exploring remote and dangerous places in time or experimenting in their laboratory.
In all of these settings, goggles are an essential piece of protective equipment. Steampunk goggles often have telescopic or swivelling lenses, which can be rotated in front of the eyes, to create a more madcap science fiction Steampunk look.
Top hats are not often worn today, compared to the Victorian or Edwardian past, and Steampunk fans favour wearing them as an easy and distinctive aspect of a costume. Some other favourite hat styles are pith helmets and pickelhaubes.
Pocket watches were a statement of wealth in the Victorian era and they combine the mechanical heart of steampunk with pure style and decoration. This type of device reflects creativity and even Steampunk art. Worn on display with a vintage coat, a pocket watch adds extra style and elegance.
Steampunk boots are made from the highest quality leather and come in a range of styles featuring buckles and chains. Intricate designs and embroidery also feature heavily within the Steampunk costume genre.
Steampunk jewellery typically includes gears as a centrepiece and incorporates technology and aesthetic designs. Beautiful intricate designs can be found amongst more chunky, steam machine-based jewellery.
The submarine the Nautilus, in the Jules Verne story 20,000 Leagues Under the Sea, is the epitome of a steampunk machine and inspires a multitude of jewellery designs, including the Octopus from the famous attack on the Nautilus.
British Steampunk
British steampunk is a stark contrast to the American version. Instead, it bases itself on the more confined, darker, industrialised version of Victorian society and tries to re-create a world of distinctions between the societal classes incorporating Victorian or Edwardian etiquette. Steeped in the traditional style of the 1800s, with a futuristic twist based on retro technology British Steampunk is based on a chronological inconsistency and a correlation of people, objects and events from a mixture of different time-periods.
American Steampunk
American Steampunk, by contrast, is set in the alternate past of the Wild Wild West which features gunslingers and steam locomotives crossing the wide and austere plains. These types of stories are mainly set and stagged around the Old Wild West or the American Civil War which gives a rough, gritty feel to the narrative. One of the earliest steampunk novels, set in America, was The Steam Man of the prairies by Edward S. Ellis.
Steampunk Conventions and Festivals
Edwardian Style balls are a regular feature on the Steampunk Calendar and the perfect place to display gorgeous and unique steampunk costumes and accessories. In the United States, the Wild West Steampunk Convention takes place in a western-themed town, amusement park and is one of the largest conventions in the world.
In the UK, Steampunk Weekends, Festivals and Markets take place throughout the year at a variety of locations. These events are the perfect way to meet with other enthusiasts and discuss new ideas and gain fresh insights into the latest trends happening in the Steampunk movement.
Custom Made Steampunk Clothing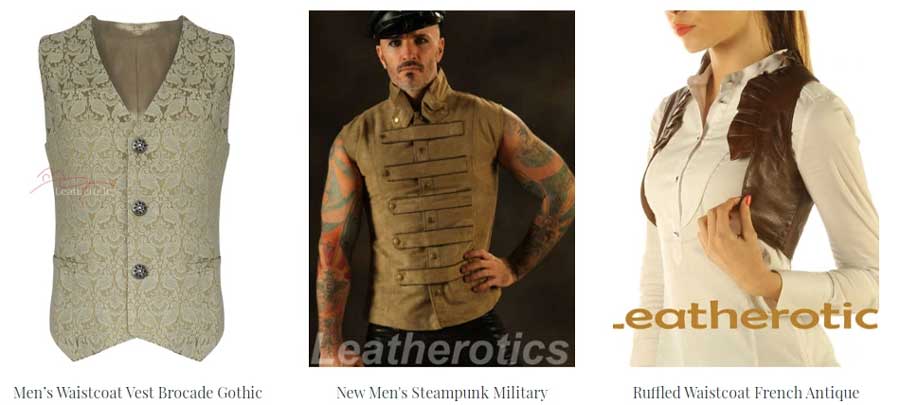 Whichever Steampunk festival or convention you're going to be attending then our boutique, handcrafted selection of Steampunk clothing has something for every type of Steampunk enthusiast. We also custom make orders, so we can cater for all-natural shapes and sizes and no one need miss out on anything in our superb collection. Our unique pieces and designs are sure to make you stand out from the madding crowd and create interest and desire when it comes to your glamourous Steampunk outfit.
Steampunk is a lifestyle and at Leatherotics the materials we use to make our garments reflect our values when it comes to delivering the highest quality clothing and accessories. We use only top quality leather, silks and denim. Whatever look you're going for, Leatherotics is here to help you achieve your unique personal Steampunk character and style.